Product Notice
* Constructed from lightweight and rugged polycarbonate these LED weatherproof battens can be surface mounted or suspended to suit your needs. (Suspended Hardware NOT included, need to purchase separately).
* IP65 rated for weatherproof applications. With protection against moisture and dust, it's an efficient and effective solution for industrial environments.
* Equipped with high brightness SMD LEDs, this unit has a 50,000-hours lifespan backed by a three-year warranty.
* Perfect LED solution for replacing conventional fluorescent weatherproof luminaires
Feature
* Length and  Wattage : 2Feet(30W) / 3Feet(48W) / 4Feet(58W) / 5Feet(80W)  available
* IP Grade : Waterproof IP65, Dustproof, Corrosion-Proof
* Input Voltage : 85-277V AC
* Cover Color : Milky White
*Lumen Efficiency
Dimension
 2Feet     30W                  L625*W63*H53 (mm)
 3Feet     48W                  L925*W63*H63 (mm)
 4Feet     58W                  L1225*W63*H63 (mm)
 5Feet     80W                  L1525*W63*H63 (mm)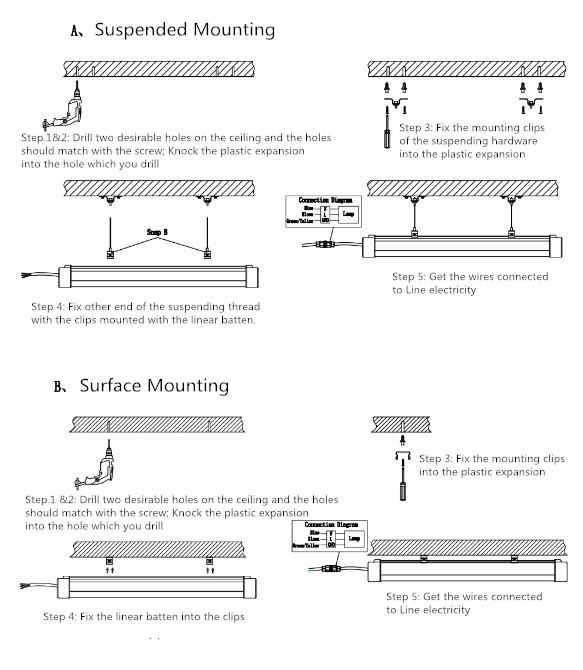 Shipping
This item Ships to
Delivery
Estimated between and
Will usually ship within 1 business day.
Product Notice
* Constructed from lightweight and rugged polycarbonate these LED weatherproof battens can be surface mounted or suspended to suit your needs. (Suspended Hardware NOT included, need to purchase separately).
* IP65 rated for weatherproof applications. With protection against moisture and dust, it's an efficient and effective solution for industrial environments.
* Equipped with high brightness SMD LEDs, this unit has a 50,000-hours lifespan backed by a three-year warranty.
* Perfect LED solution for replacing conventional fluorescent weatherproof luminaires
Feature
* Length and  Wattage : 2Feet(30W) / 3Feet(48W) / 4Feet(58W) / 5Feet(80W)  available
* IP Grade : Waterproof IP65, Dustproof, Corrosion-Proof
* Input Voltage : 85-277V AC
* Cover Color : Milky White
*Lumen Efficiency
Dimension
 2Feet     30W                  L625*W63*H53 (mm)
 3Feet     48W                  L925*W63*H63 (mm)
 4Feet     58W                  L1225*W63*H63 (mm)
 5Feet     80W                  L1525*W63*H63 (mm)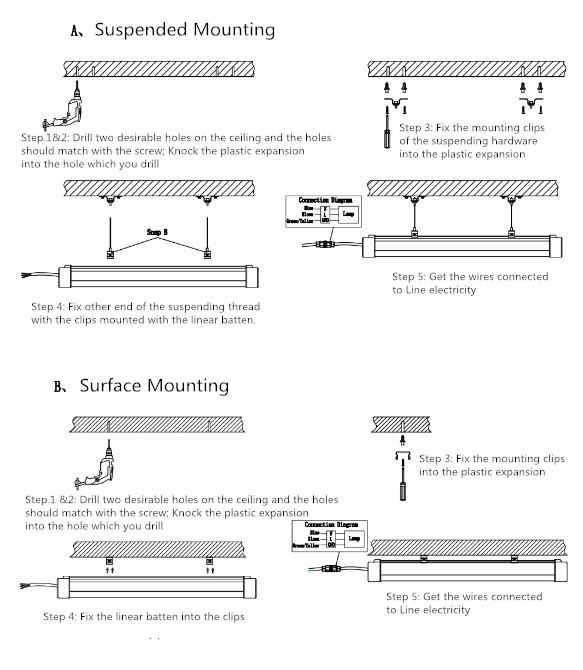 Shipping
This item Ships to
Delivery
Estimated between and
Will usually ship within 1 business day.